NEWS Center
Mountaineer and NY Times Best-selling Author Alison Levine Receives Ellis Island Medal of Honor
Wednesday, May 22, 2019
SAN FRANCISCO (PRWEB) May 15, 2019
Alison Levine, history-making adventurer and leadership advisor, was awarded the Ellis Island Medal of Honor by the Ellis Island Honors Society. The Medal, which was awarded to Levine on May 11th, recognizes individuals who have made it their mission to share with those less fortunate their wealth of knowledge, indomitable courage, boundless compassion, and selfless generosity. Past medalists include seven U.S. Presidents, three world leaders, several Nobel Prize winners and countless leaders of industry, education, the arts, sports and government.
Levine is one of an elite group of extreme athletes to have accomplished the Adventure Grand Slam, which is to climb the highest peak on each of the seven continents and to ski to both the North and South Poles. She currently serves on the faculty of the Thayer Leader Development Group at West Point, one of the nation's premiere leadership training programs. She is the author of the New York Times bestseller On the Edge: Leadership Lessons from Mt. Everest and Other Extreme Environments and is one of the country's most in-demand keynote speakers.
"I'm beyond humbled to be included with all of these other amazing honorees," said Levine. "It means so much to receive such an incredible award and it's one that I will hold proudly. I am very grateful and thankful to the EIHS and vow to do all I can to continue to inspire others to achieve more than they ever thought possible."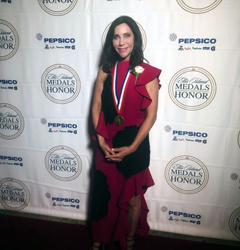 The Ellis Island Medals of Honor are presented annually to a select group of individuals whose accomplishments in their field and inspired service to our nation are cause for celebration. The Medal is recognized by both Houses of Congress as one of the country's most prestigious awards and is annually memorialized in the Congressional Record. In addition to her outdoor adventures, Levine also has extensive experience in corporate America, holds an MBA From Duke University and served on the board of the Coach K Center on Leadership and Ethics.
Along with Levine, others receiving the Ellis Island Medal of Honor this year include Dr. Sanjay Gupta, Congressman Adam Schiff, Coca-Cola Chairman Muhtar Kent, IBM CEO Ginni Rometty and former Google CEO/Chairman Eric Schmidt.
"There's power in the art of effective communication. A leader must not only develop an easily understood vision, but he has to communicate it to his team in a way that is understandable to all."
Lieutenant General Frank Kearney,(USA, Retired, USMA 1976)
More +